Ti-Nanoxide

Titanium Dioxide Pastes & Inks
The Ti-Nanoxide products are a family of formulations of titanium dioxide particles, nanoparticles, and organotitanates. They can be used for the fabrication of titania photo-electrodes and are perfectly suited for Perovskite Solar Cell and Dye Solar Cell applications. In Dye Solar Cells, the photo-anode consist of a mesoporous layer of titanium dioxide nanoparticles, which can be further stained with one of our premium sensitizing dyes. In Perovskite Solar Cells, the photo-anode is made of a compact titania layer topped by a mesoporous layer of the same which acts as a scaffold to host perovskite.
The formulations of our products have been developed over 20 years utilizing close interaction with customers and partners. This has led to the most comprehensive offering of titania pastes available.
We use proven in-house fabrication processes that proudly continue to serve research and industrial uses. Solaronix' nanoparticle manufacturing allows us to precisely control crystal growth and anatase phase selectivity. We produce targeted particle sizes which enable us to tune transparency and porosity of the resulting titanium dioxide layers.
For Screen Printing, /SP Series
FOR SOLID-STATE AND PEROVSKITE SOLAR CELLS
For Spin Coating, /SC Series
For Slot-Die Coating, /DC Series
Browser Products
How to Order
Should you like to place an order or ask for a quotation, please navigate to our webshop at shop.solaronix.com.
If you so prefer, you can also contact us directly with the desired items and quantities.
Brochure
Download the Solaronix Materials brochure, with prices and references:
Solaronix Materials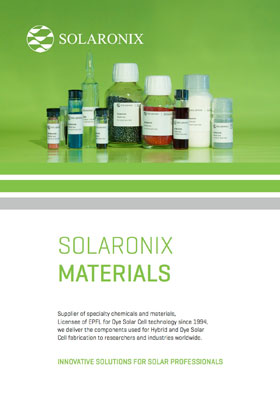 (PDF, 4.4 MB)