Perovskite Materials

Specialty Products
For several years now and continuing, major breakthroughs branched solid-state Dye Solar Cell research to a new approach using perovskite light absorbers with extraordinary photovoltaic performances.
Since then, Solaronix is heavily investigating Perovskite Solar Cell technology, and is actively working on supplying researchers with the corresponding new materials and components.
Our customers can now benefit from the latest innovations in this field with our Ti-Nanoxide BL150/SP and Ti-Nanoxide T165/SP titania pastes, Zr-Nanoxide ZT/SP zirconia paste, Elcocarb B/SP carbon paste specifically designed for perovskite solar cells, as well as the perovskite precursor and hole transport material shown here.
HOLE TRANSPORT MATERIAL
Spiro-OMeTAD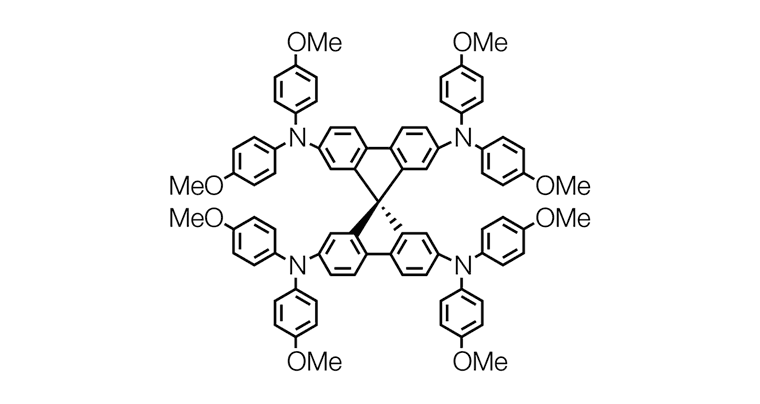 Spiro-OMeTAD is the hole transport material of reference for solid-state Dye Solar Cells and Perovskite Solar Cells.
Chemical name: 2,2',7,7'-Tetrakis-(N,N-di-4-methoxyphenylamino)-9,9'-spirobifluorene
Molecular formula: C81H68N4O8
Formula weight: 1225.43 g/mol
CAS number: 207739-72-8
Aspect: white to beige powder
PEROVSKITE PRECURSOR
Methylamonium Iodide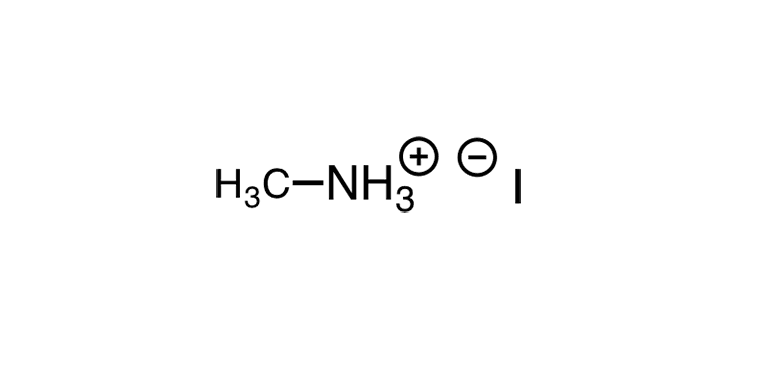 Use Solaronix' methylamonium iodide in conjunction with lead halides to prepare your perovskite solar cells.
Chemical name: methylammonium iodide
Molecular formula: CH6IN
Formula weight: 158.97 g/mol
CAS number: 14965-49-2
Aspect: white powder
PEROVSKITE PRECURSOR SOLUTION
Perovskite Precursor Solution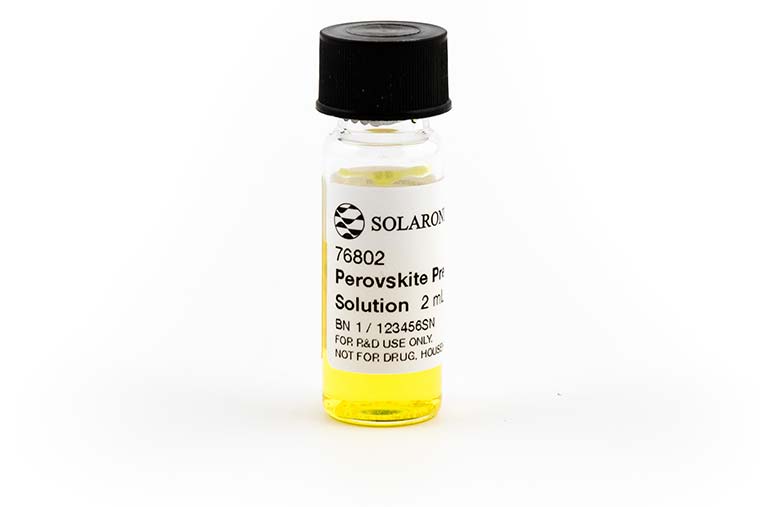 Pre-mixed solution for the infiltration of CH3NH2PbI3 perovskite into monolithic electrodes in a single step.
Content: lead iodide, methylammonium iodide, 5-aminovaleric acid hydroiodide
Solvent: gamma-butyrolactone

Browser Products
How to Order
Should you like to place an order or ask for a quotation, please navigate to our webshop at shop.solaronix.com.
If you so prefer, you can also contact us directly with the desired items and quantities.
Brochure
Download the Solaronix Materials brochure, with prices and references:
Solaronix Materials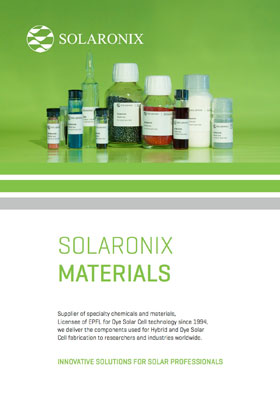 (PDF, 4.4 MB)