TCO

Transparent and Conductive Substrates
Assembling solar cells begins with the proper choice of substrate. Solaronix provides a variety of conductive substrates suitable for Perovskite Solar Cells, Dye Solar Cells, or any other photo-electrochemical devices.
Our fluorine-doped tin oxide (FTO) coated glasses ensure optimal adhesion of printed layers, a primary requirement for electrode fabrication. Thanks to their chemical inertness, the coated glass surface can withstand harsh solutions, making it very well adapted to a broad range of experiments.
Several sheet resistivities are available, among the most conductive found on the market today. Furthermore, these glass substrates tolerate high temperature treatments without loss of conductivity.
Our FTO coated glasses come in a variety of thicknesses and sizes to suit all of your needs.
Thickness
Resistivity
Glass Type

3 MM GLASS

TCO30-10/LI
3.0 mm
10 ohm/sq.
low-iron sodalime (clearer)
BUY
TCO30-10
3.0 mm
10 ohm/sq.
sodalime
BUY
TCO30-8
3.0 mm
8 ohm/sq.
sodalime
BUY

2 MM GLASS

TCO22-15
2.2 mm
15 ohm/sq.
sodalime
BUY
TCO22-7/LI
2.2 mm
7 ohm/sq.
low-iron sodalime (clearer)
BUY

1.6 MM GLASS

TCO16-15
1.6 mm
15 ohm/sq.
sodalime
BUY

1 MM GLASS

TCO10-10
1 mm
10 ohm/sq.
aluminoborosilicate
BUY
Conductive layer: fluorine-doped tin oxide, SnO2:F (FTO).
Standard sizes: 5 x 5 cm, 10 x 10 cm, and 30 x 30 cm.
Value packs of 10 and 100 pcs. available (5 and 25 pcs. for 30 x 30 cm).
Glass Cutter
This high-precision glass cutter will help you cut and trim 0.5-4 mm substrates with ease. Unlike conventional cutters, our Glass Cutter features a unique and durable notched carbide wheel that provides very precise cuts with smooth edges.
Custom Glass Sizes
Customer with specific glass size requirement can benefit from our cutting service. Please inquire us with the dimensions you desire.
FLEXIBLE SUBSTRATES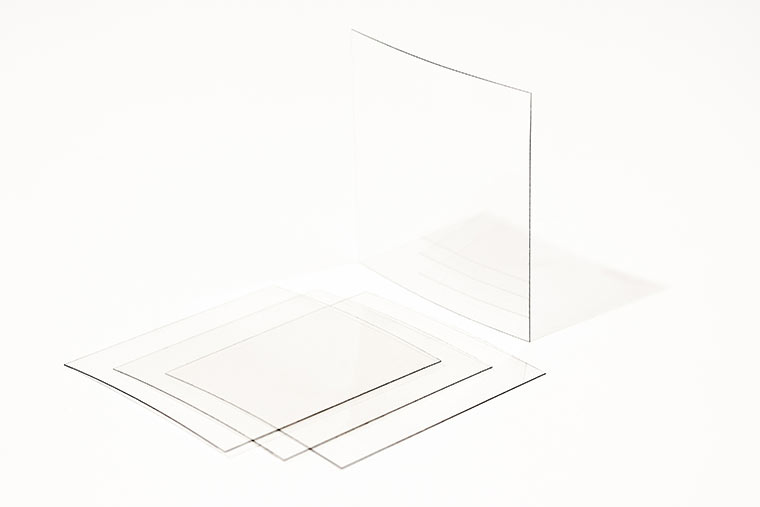 PETITO188-18
A 188 µm thick polyethylene terephthalate film with an 18 ohm/sq indium tin oxide coating on one side.
Film type: PET (polyethylene terephthalate)
Film thickness: 188 µm
Coating: ITO (indium tin oxide, ln2O3:SnO2)
Sheet resistivity: 18 ohm/sq.
TCO Coating Service
Get a fluorine-doped tin oxide (FTO) transparent and conductive coating on your substrates: ceramics, glasses, quartz, or any heat resistant substrate. Inquiries are welcome.
Browser Products
How to Order
Should you like to place an order or ask for a quotation, please navigate to our webshop at shop.solaronix.com.
If you so prefer, you can also contact us directly with the desired items and quantities.
Brochure
Download the Solaronix Materials brochure, with prices and references:
Solaronix Materials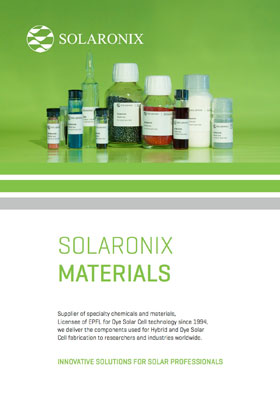 (PDF, 4.4 MB)