Meltonix

Hot-Melt Sealing Films
Solaronix has a selection of polymer films specifically adapted to sealing electrodes. These materials demonstrate excellent chemical compatibility with the other components of Perovskite and Dye Solar Cells. The gaskets easily cut from these films will ensure a perfect confinement of the inner materials of the devices after hot press lamination. We have been using Meltonix for over 15 years, proving its stability and durability.
Thicknesses of either 25 or 60 µm are available, and gaskets may be stacked for increased sealing thicknesses. The sealing process consists in melting the gasket onto the electrodes at controlled pressure and temperature with the help of a hot press or a vacuum laminator. The adhesion of Meltonix on glass substrates is excellent, leading to a fully transparent sealing./tr>
Thickness
Thermoplastic
Sealing Temperature

25 MICRONS

Metlonix 1170-25
25 µm
DuPont Surlyn®
~100°C
BUY

60 MICRONS

Metlonix 1170-60
60 µm
DuPont Surlyn®
~100°C
BUY
Metlonix 1161-60
60 µm
DuPont Bynel®
~130°C
BUY
Film Cutting Service
Solaronix provides a film cutting service to obtain custom shapes of Meltonix films. Feel free to inquire with your desired dimensions.
Optional Protective Film (PF)
Meltonix films can be supplied on a liner for whose who may apply a 2 step lamination process, or as a carrier sheet for cut works. Seek for the PF suffix of the same product names at ordering (ex: Meltonix 1170-25PF).
SECONDARY SEALING
Amosil 4
Use Amosil 4, our dispersed two component sealing system for a supplementary sealing of your devices in conjunction with the Meltonix products.
Browser Products
How to Order
Should you like to place an order or ask for a quotation, please navigate to our webshop at shop.solaronix.com.
If you so prefer, you can also contact us directly with the desired items and quantities.
Brochure
Download the Solaronix Materials brochure, with prices and references:
Solaronix Materials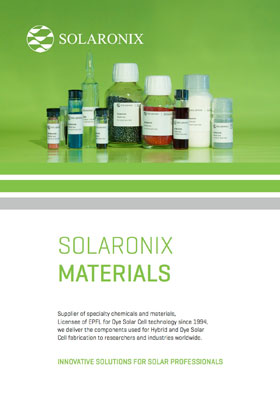 (PDF, 4.4 MB)