Ruthenizer

Ruthenium Photo-Sensitizers
The Ruthenizer product line is composed of the very best ruthenium-based sensitizers. These dyes are especially suited for the sensitization of wide band-gap semi-conductors, like titanium dioxide in Dye Solar Cells.
Our product family features all the acclaimed compounds of the Dye Solar Cell community along with additional ruthenium dyes suited for various sorts of photochemical experiments.
As a material supplier, Solaronix is committed to demonstrating the performance of our products. For this reason, we test all of our production batches in real Dye Solar Cells, made in-house, to guarantee the photovoltaic performance that our customers deserve.
With over 15 years of synthetic and purification experience, we are able to deliver premium quality sensitizing dyes for solar cell applications. They are available in tailored quantities for research and development, as well as bulk quantities for the industry.
Being the one-stop-shop for Dye Solar Cell materials, we also supply staining additives for use in conjunction with sensitizing dyes. For instance, chenodeoxycholic acid is a proven compound for enhancing photovoltaic performances in the presence of ruthenium dyes.
SENSITIZING DYES
STAINING ADDITIVE
Browser Products
How to Order
Should you like to place an order or ask for a quotation, please navigate to our webshop at shop.solaronix.com.
If you so prefer, you can also contact us directly with the desired items and quantities.
Brochure
Download the Solaronix Materials brochure, with prices and references:
Solaronix Materials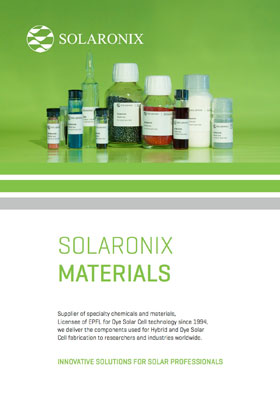 (PDF, 4.4 MB)