CELLS TESTER
Cells Tester A-1525 series is e complete environement of ageing, characterisation and thermal tester under light load for silicon wafers, the execellence of our Solar Simulator and Light Soaker functions combined with a userfriendly professional electronic load. The electronic load is piloted through an I-V Tracer software that offer a complete turnkey solution for the most exigent user.
Many of our realizations are built upon customers' requirements. The mechanical design of our systems allows us to build units of any size, either custom Cells Tester (Solar Simulator, Light Soaker and thermal tester under light load combined).
Our large area Cells Tester equipment consists of arrays of Lumixo light engines. The complete machines are then built for the targeted illuminated area specified by the customer.
Thanks to the benefit of our Lumixo light engine, our Light Soakers and Solar Simulators are providing continuous and stable illumination. Cells Tester equipment can be ordered with a Class A spectrum.
Our basic systems typically meet the Class AAA, Class ABA or Class ABB required for most testing standards. The Class is depending of the active surface. The biggest size provide better class, i.e. 250 x 150 cm is in class AAA.
Our solution is certified to IEC 60904-9:2007, ASTM E927-05 and JIS C 8912 standards.
All our machines are constructed to give easy access to the illuminating chamber. Furthermore, they come with a network interface to allow remote control of the installation.
The active area can be up to 4 x 4 m without additional charge of engineering
Upper size of active area is available, but require additional anlysis
Cells Tester product is compliant with the tests list describe below
Maximum power determination (MPP) test according to IEC 61215 and IEC 61646 norms
Measurement of temperature coefficient test according to IEC 61215 and IEC 61646 norms
Performance at low irradiance according to IEC 61215 and IEC 61646 norms (with filters option)
Light soaking test according to IEC 61646 norm
Our vision
We offer complete, excellent products without hidden costs.
Thermal Control
Continuous solar simulation implies that a considerable amount of energy is fed to the sample under test. Solaronix' range of simulators are fully engineered for fully thermal control of the samples. Our sample holder is constitued by anodized plates with water circulating ciruit. Low noise recirculating chiller units provided with equipment are installed inside on the bottom. Tiny holes are include in the sample for the vacuum chick functions to ensure good thermal contact with the samples under test.
The operator set manually the water temperature. Across the chiller software (connected to the computer with RS232 communication) heating and cooling ramp can be controled.
Cells Tester Units
The Cells Tester units are designed for solar simulation, light soaking and measurement of temperature coefficients. They rely on thorough thermal engineering to maintain the samples at 25°C to meet the Standard Testing Conditions (STC) required by IEC 60904-9. These equipments are designed to provide indoor test conditions for common test made outdoor. The weather is not an issue for our customers.
The Cells Tester units are the worldwide most polyvalent equipment for PV industry. You have the guarrantee to provide all the tests results ontime thanks to our indoor testing unit.
Your samples can also be held at temperatures between 25°C and 70°C for customized testing conditions.
Cells Tester products are compliant with the tests list describe below
Maximum power determination (MPP) test according to IEC 61215 and IEC 61646 norms
Measurement of temperature coefficient test according to IEC 61215 and IEC 61646 norms
Performance at STC and NOCT according to IEC 61215 and IEC 61646 norms
Performance at low irradiance according to IEC 61215 and IEC 61646 norms (with low irradiance filter option)
Light soaking test according to IEC 61646 norm
Case study: Cells Tester A-1525
This Cells Tester A-1525 unit was designed to realize solar simulation on a 250 x 150 cm area. The system relies on 20 Lumixo light engines to obtain Class A in spectrum, uniformity, and stability. This equipment is designed to accept an array of 9 x 15 (135 samples) silicon wafers 6 inches.
Cells Tester A-1525 Specifications
| | |
| --- | --- |
| Class: | AAA |
| Sample type: | Mono and polycrystalline silicon solar cells |
| Sample area: | 2.5 x 1.5 m illuminated area |
| Light intensity: | 800 to 1100 W/m2 intensity |
| Light source: | 20 Lumixo light engines, Class A |
| Lamps lifetime: | 20000 hours, serviceable |
| Spectrum: | Class A |
| Illumination non-uniformity: | ±1% over 250 x 150 cm (Class A) |
| Irradiance stability: | <2% (Class A as per IEC 60904-9) |
| Light engine cooling: | Forced air ventilation |
| Software: | Lamp control and monitoring, sample holder temperature, light intensity |
| Dimensions: | 330 x 270 x 210 cm (sample holder closed) |
| Mass: | ~1500 kg without refrigerated circulator |
| Structure: | Anodized aluminum |
| Cooling units: | 4 x 1600W low noise recirculating chiller units (can be connected to water circuit to reduce heat load inside the room on option) |
| Electromagnetic compatibility: | 2.45 GHz ISM Group 2, Class B Device (CISPR 11) |
| RoHS conformity: | Yes |
| CE conformity: | Yes, the components and the entire system conform with the CE regulations, the system is intended for industrial or laboratory use |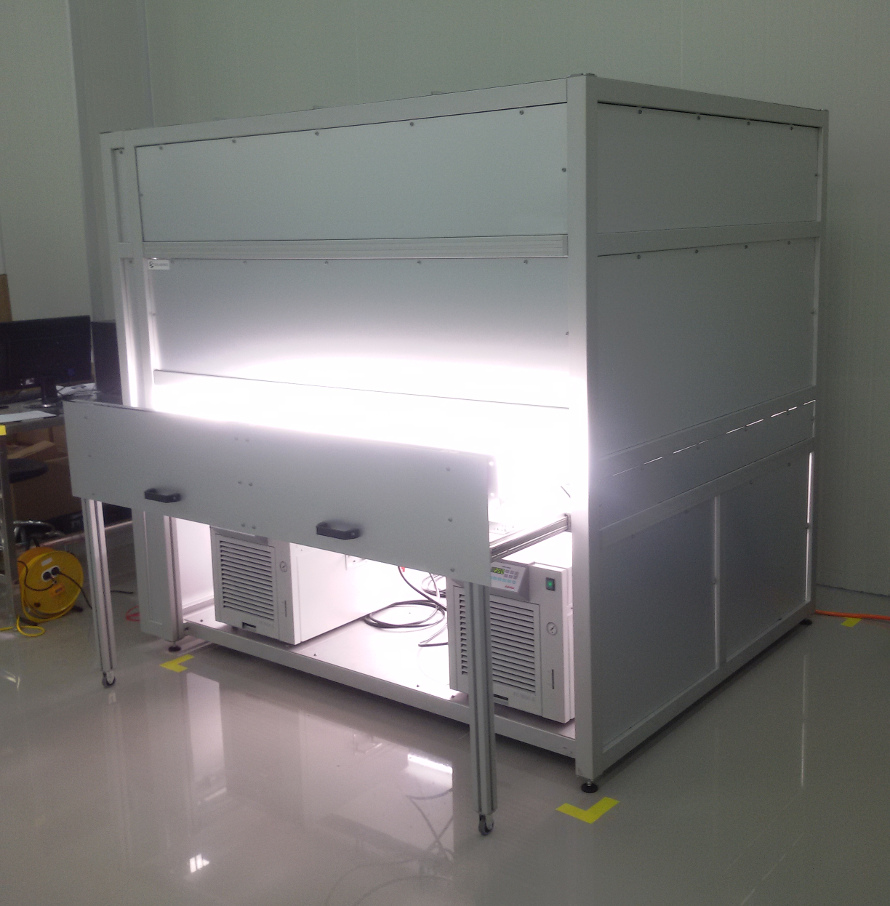 Image show Cells Tester A-1417 with 1.4 x 1.7 m of active surface (array of 8 x 10 Si wafers 6 inches).
Turn-key solution
The computer, the solar simulator, the electronic load and the I-V Measurement software are configured in our factory to ensure easy and fast installation on site.
Electronic Load
Coupling our solar simulator to a performant electronic load results in high quality measurements which most demanding users require nowadays.
I-V measurement equipments is a professional system.
Professional measurement system
Our IV-System Pro is built around the well-known Kepco Bob bi-polar power supply and 3 Agilent DMMs to realize high quality data acquisition on current, voltage and reference cell. These proven instruments have all it takes to measure IV-curves (both dark and illuminated) on solar cells and modules.
The current range is ±4A, where the voltage range is ±100V. Other ranges are available on request.
When measuring solar cells it is very important to use a thermostated sample holder. By using thermostated sample holder to prevents heating up of the solar cell material.
Another important parameter for solar cell metrology is the temperature. A high precision, class A Pt100 temperature sensor including computer interface (USB) is included with this Profesionnal IV System.
Multiplexing of measurement can be made, this option add up to 60 two wires channels or 30 fours wires channels. The multiplexer is piloted across the I-V Tracer software for automatich measurements.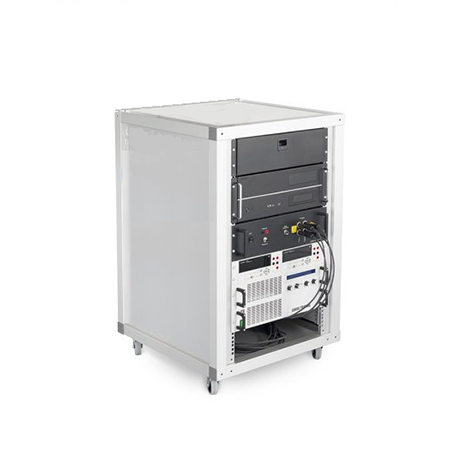 I-V Measurement Software
To ensure a correct powerful control of the equipment, the user-friendly Tracer IV-Curve software is required for each I-V Measurement system. The numerous functions range from doing basic I-V curve measuremens to most advanced analysis.
Tracer is the all-in-one solution for the measurement and elaboration of IV-curves for solar cells and modules. Tracer is the core application that will help you to characterize your solar cells and modules. Many institutes and laboratories all over the world work hard on the development of new materials and technologies for photovoltaic applications. One of the main techniques to characterize these devices is to measure its IV curve. An IV curve can be taken from a solar cell by changing the voltage while measuring the light generated current.
It seems logical for this measurement to use a standard power supply, because a power supply is normally used to provide a variable voltage and current. Unfortunately this would not work for solar cells. A solar cell generates current, so you will need to have a power supply that sinks this generated current instead of providing it. This can be done with a so called bi-polar power supply (or electronic load). This is a power supply that can sink and source current at both positive and negative voltages. There are many instruments on the market that can be used as a bi-polar power supply. Some of them are just bi-polar power supplies while others integrate measurement and control capabilities as well.
Tracer will let you define and setup a system based on different instruments to measure your IV curves. You can add multiplexers to automatically measure multiple cells by using one single measurement system, implement contact checking and measure monitoring solar cells.
Some examples of the supported hardware:
Keithley 2400 series
Keithley 2600 series
HACKL Electronic Loads
Kepco BOB
B&K Electronic Loads
Toellner loads info
EKO MP-180 Curve Tracer
National Instruments Data Acquisition
MODBUS / Ethernet controlled instruments
Naturally Tracer natively supports the control of all Keithley 2400 and 2600 series source meters. These instruments have proven their strength over time for the measurement of solar cells. They range from 0.1fA – 20 Amperes. Tracer is developed with the latest Microsoft.NET Technology, which resulted in a modern 'Microsoft Office' look and feel. A stable operation on the Microsoft Windows platform is guaranteed.
I-V Software main window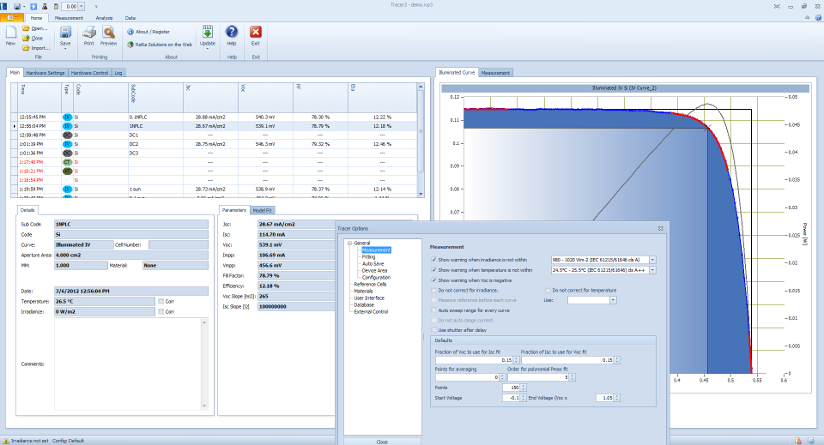 Preset configurations are available to ensure fast setting-up of the system.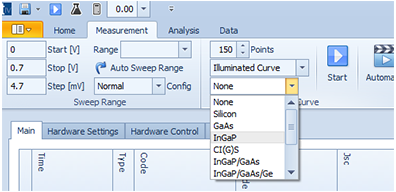 Tracer Configurator
Before you start working with Tracer, you will have to configure your system. This is done by the Tracer Configurator. A tool that completely defines the setup you want to use. Tracer intends to support most instruments available on the market to use as an IV-curve measurement system. You can use for example a Kepco Bop bipolar power supply, add 2 Agilent 34410A DMMs to measure voltage and current, use a National Instruments DAQ card to control the Kepco Bob and get that unused Keithley 2000 DMM to measure a pt100 sensor for the solar cell temperature. This can all easily be deined in the configurator.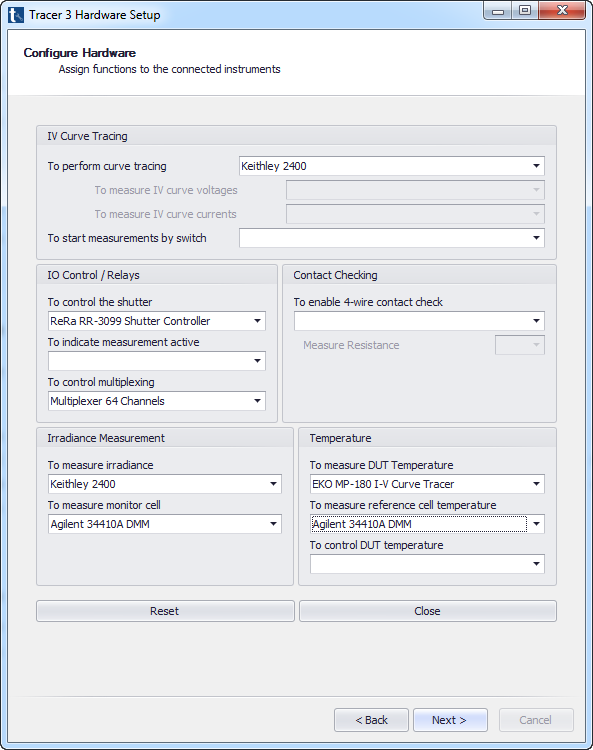 Information
1 x Silicon reference cell is included with Cells Tester products. Additional reference can be ordered on request.
Available options
Silicon Reference Cell (open or shunted version)
GaAs Reference Cell
Solar Cell IV-Converter (dedicated readout unit for reference cells)
Complete environment included
1 x Cells Tester A-1525
4 x Low noise recirculating chiller unit
1 x Professional measurement system
1 x I-V Tracer software
1 x Reference solar cell
1 x CAN server to pilot the solar simulator
1 x PC computer under Windows 7 Pro