October 22nd, 2019
On October 4th 2019 was held in Lausanne the kickoff meeting of the UNIQUE project, which stands for "Carbon Based Perovskite Solar Cells with UNI-Directional Electron Bulk Transport: in the QUEst of a Short Time to Market".
UNIQUE brings together renowned European research centers and strategic industrial partners whom identified carbon-based perovskite solar cells to be the most promising variant of the technology for industrialization.
Solaronix also single out carbon-based perovskite solar cell technology several years ago and is working at its industrialization since then.
UNIQUE will be under the coordination of Fraunhofer ISE, and members of the consortium include:
- Universidad Autónoma de Madrid (Spain),
- EPFL-Valais (Switzerland),
- Fraunhofer ISE (Germany),
- LITEN at CEA Tech (France),
- LEPMI at Université Savoie Mont Blanc (France),
- CHOSE at Università degli studi di Roma Tor Vergata (Italy),
- SPECIFIC at Swansea University (UK),
- Dyenamo (Sweden),
- and Solaronix (Switzerland).
Perovskite solar cells have nowadays reached record efficiencies comparable to those of silicon wafer-based solar cells at the laboratory level. The former have however yet to be scaled up without compromising overall performance. UNIQUE aims at bringing this emerging photovoltaic technology to a truly exploitable industrial level, thanks to the wide range of expertise gathered by the partnership.
Among the different perovskite solar cell architectures reported so far, the printable carbon-based approach is the most promising in terms of ease of manufacturing, long-term stability, environmental impact, and carbon footprint.
Indeed, this architecture solely uses ultra low-cost materials, and rely on simple manufacturing methods like printing.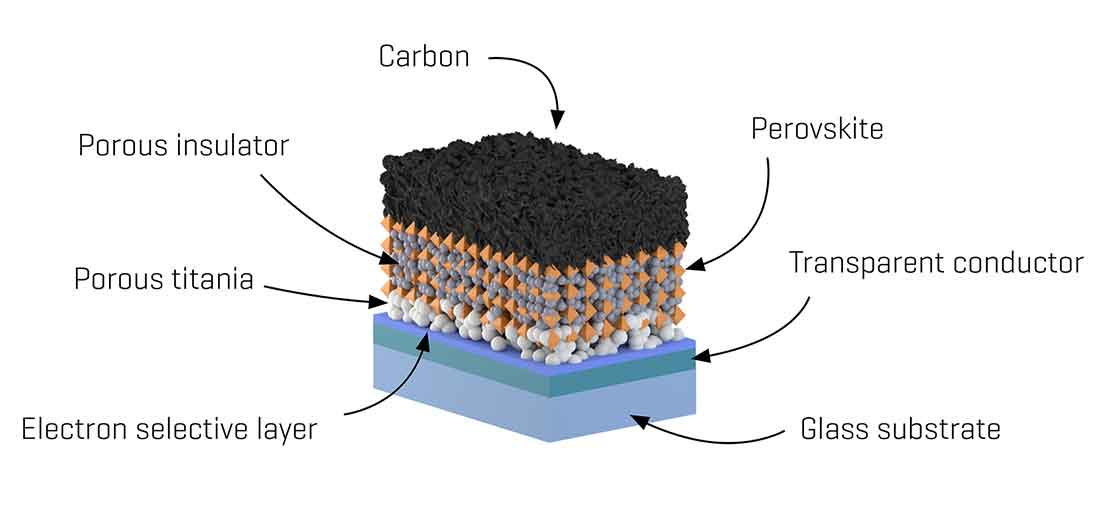 Carbon-based perovskite solar cells can be therefore produced with much fewer energy and at minimal capital expenditure unlike incumbent photovoltaic technologies. All of this combined puts carbon-based perovskite solar cells in a good position of a localized production, in reply to the imperative of local energy supply.
Solaronix naturally welcomes the new consortium and our whole team feels honored to work with such ideal partners.
An open scientific symposium is planned at the end of the project to disseminate results and to involve possible stakeholders.