November 7th, 2013
As the construction of the prestigious congress center on the EPFL campus comes to an end, Solaronix has proudly delivered our tailor-made photovoltaic panels to constitute the world's first multi-colored and transparent Dye Solar Cell facade.

The installation on the west face of the majestic glass entrance hall will occupy no less than 300 m2, and culminate with a total active area of 200 m2. The photovoltaic facade is the fruit of an ambitious goal to replace passive sun-shades with active elements. The solar panels manufactured by Solaronix were wholly customized to the architects' specifications.
Five shades of red, orange, and green panels are arranged in ornamental vertical stripes to give a unique dynamism to the facade, an unparalleled feature for photovoltaic panels. More than half of the incoming sunlight is allowed to shine through the panels, allowing them to behave like the sun-shade initially planned. The first estimation of annual electrical production is around 2,000 kWh, an impressive figure given the high transparency and the orientation of the facade.
The innovative energy collection system of the facade was also provided by Solaronix. A smart electronic converter for each solar panel harvests the maximum photovoltaic power possible. This ingenuous system not only makes the facade more efficient, but also allows each of the 355 panels to be remotely monitored.
Solaronix was awarded the contract over other bidders thanks to the existence of earlier prototypes made by the company, and the capacity to deliver on time an impressive number of custom-made solar panels with the accompanying power system. Nonetheless, massive investments were made in new machinery, and additional personnel hired, by Solaronix over the past 18 months to realize this impressive facade.
Realizing the world's first architectural integration of Dye Solar Cells is an important milestone reached. Solaronix is now in position to further upscale production, and will commercialize solar panels in 2014 to others customers who have already shown interest in our technology.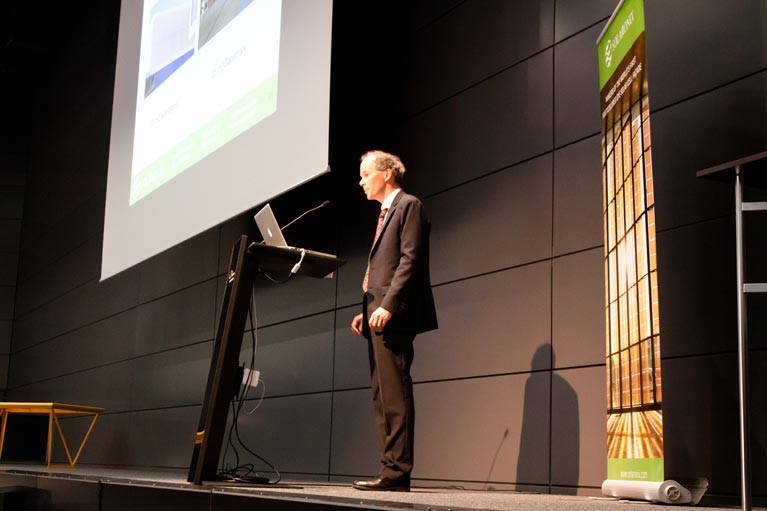 Hear From Us
Get updated a few times per year with important news and product releases.
Thank you!
We sent a confirmation to .
Please check your mailbox and follow the validation link given in this message.
Please check your email address.
No worries, we won't share your address anywhere else, and you can easily opt out whenever you like.
Press
Visit our press corner to get all of our company information.